After reporting on the World Cups 2010 and 2014 in South Africa and Brasil, this one was the latest in a row of multimedia blogs:
Moritz Gathmann  and I spent five weeks travelling by plane, train, bus or boat from Yakutia through to Moscow, looking behind the scenes of this epic event.
We met so many people and listened to so many of their stories. From fishermen in the very northeast of Siberia, Russian German who stayed on near Omsk to eco farmers south of Moscow. An incredible trip through Russia's great expanse getting to know the Russian way of life and the country itself in all its diversity and beauty.
Moritz who lived and worked in Russia as a journalist was in charge of texts and research whilst I was responsible for photography, film, design and website coding. We were supported by institutional funding as well as live-crowdfunding.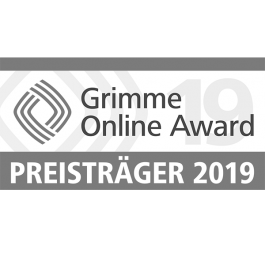 Grimme Online Award 2019
In June 2019 Buterbrod und Spiele was awarded with a Grimme Online Award.
The jury explained: "Far away from the venues, Christian Frey and Moritz Gathmann traveled to Russia for the 2018 FIFA World Cup on a crowdfunded reportage trip to Russia and introduced readers to the country and its people in atmospherically dense texts and images. [ … ] "Buterbrod und Spiele" presents well-chosen protagonists, who provide very impressive information about Russian everyday life in places where the hustle and bustle of the sports event is not directly felt. The extensive Russia expertise of Moritz Gathmann is consistently felt and the photos of Christian Frey catch the landscape and people along the route worth seeing.
Find the written Laudatio here.
Grimme Online Award Laudatio
Karsten Schwanke about Buterbrod und Spiele at the awards show in Cologne: "…it is very political, but even more humanly, what you have found out about this huge and very exciting country."
Our Blog
The landing page is set up with changing video headers, showing all our articles, a map with our destinations and linked posts and crowdfunding information.
All protagonists are introduced with a double portrait.
The blog is built with WordPress and the mobile ready framework Bootstrap.
Typefaces used are: Google Fonts Vollkorn and Rubik.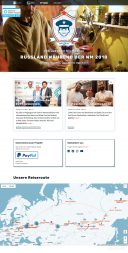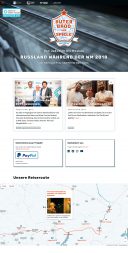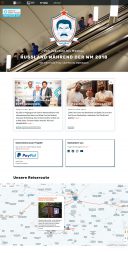 Our Crowdfunding Campaign
Our Jorney on interactive Maps
Embedded are both the entire journey through Russia on the landing page and article based maps about our local trips. Published with Google Maps, fully editable through the CMS, with direct links and previews to the articles, location clusters and travelling modes like trains or flights, precise routes and distances.

Our Followers
On our blog we got some very nice likes for our work:
I think your reports are great. I like to hear and read about people I will never meet in my life, but everybody has a story to tell. Each one a different story. It's like a mystery novel.
I think your project, just like DEKODER, is just totally good. It's important to be present and that the country and its people come to the microphone. In the current political business, which is very testosterone-driven, it is easy to lose sight of what is really informative in the news business.
Great reportage! Questions some of the prejudices.
More Soup?
360° Dinner Time in Taischet with the lovely couple Andrej und Tanja Ofizerow.
One, two, three...
Yakutian jaw´s harp ensemble in an open-air concert in Belaja Gora.
Russian Friends
Drinking time on the Baikal-Amur Mainline with a few shift workers on their long way home, somewhere in Siberia.
"Gljuck gechabt!"
Actually, the Russians were convinced that their team can't make it beyond the group matches. And then this! Check out how Alexei and Masha responded to their team's entry into the quarter-finals – at a petrol station somewhere in the woods of the Republic of Mari El.
Tjumen comic heros...
…drawing life 90 minutes Germany – South Korea. After 90 minutes Germany was out.
Russian Sayings
Used for campaigning our blog on social media.