It's impossible to travel to a World Cup in South Africa without going to Brazil too. So in spring 2014 we decided to take a look behind the scenes of the 2014 World Cup, this time together with our journalist friend Birte Fuchs.
During the Confed Cup in June 2013, two million Brazilians took to the streets in protest. Their slogan for the six weeks during the Cup was: We have nothing against this World Cup. But we want our schools and hospitals to also meet FIFA standards. So this mega event will be played out on two stages. On the one, the Brazilian government wanting to demonstrate that Brazil has become a member of the elite club of industrialised nations. On the other, many people of Brazil will be showing that they have emancipated themselves from the Establishment and are articulating the need for their interests to be considered. But nevertheless there will also be many Brazilians who simply carry on living their daily lives: going to work as usual and watching football in the evening.
In the election of the Journalists of the Year, organised by Medium Magazin the following year, Brafus 2014 was voted second in the category Sport.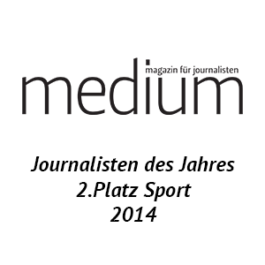 www.brafus2014.de